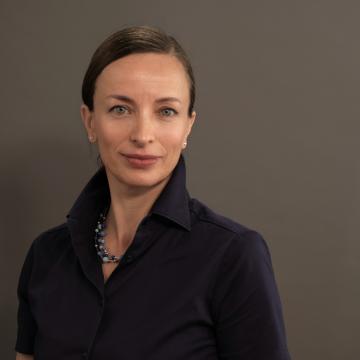 Vrednote so skriti motivator, katerega vloga je usmerjanje pogledov, mnenj in vedenj zaposlenega.
Department of Psychology
Prof. Eva Boštjančič
Eva Boštjančič je po diplomi s področja psihologije potrošnika štirinajst let delovala na svetovanem področju, kot svetovalka za delo z ljudmi v organizacijskem okolju ter podjetnica. Svetovala je na področjih razvoja, motiviranja zaposlenih, preprečevanja stresa, na organizacijskem nivoju je izvajala projekte oblikovanja organizacijskih vrednot, merjenje zadovoljstva, delovne zavzetosti ter organizacijske kulture. Sedaj občasno svetuje, vodi delavnice, predava zaposlenim v gospodarstvu in javnem sektorju ter ureja spletno stran www.psihologijadela.com.
Je vodja katedre za psihologija dela in organizacije ter na magistrski stopnji nosilka predmetov Kadrovska psihologija, Organizacijska psihologija in Karierni razvoj zaposlenih. Aktivno sodeluje tudi na doktorskem študiju pri predmetu Teorija in praksa aplikativne psihologija ter je mentorica številnim doktorskim študentom. Na raziskovalnem področju jo zanima predvsem proces vodenja (projekt GLOBE, 2004), saj je tako magistrsko delo (Osebnostne značilnosti uspešnih managerjev) kot doktorsko disertacijo (Vpliv vedenja in motivov vodje na pripadnost, delovno učinkovitost, motivacijo in zadovoljstvo zaposlenih) posvetila obravnavi psiholoških lastnosti in vedenju vodilnih zaposlenih. Danes raziskuje področje kulturne inteligentnosti (projekt prilagoditve vprašalnika kulturne inteligentnosti, 2015-2017) ter oblikovanje zaupanja v mednarodnih poslovnih odnosih (projekt Oblikovanje zaupanja v poslovnih odnosih, Slovenija-Rusija, 2016-2018; BI-RU/16-18-042). Intenzivno se ukvarja s področjem stresa in z izgorelostjo (project INODEL, 2010-2012) ter z vračanjem na delo po izgorelosti oz. po daljši bolniški odsotnosti.
Eva je članica uredniškega odbora mednarodne znanstvene revije Changing Societies & Personalities ter slovenske strokovno-znanstvene revije Vodenje v vzgoji in izobraževanju. Sodeluje v Društvu psihologov Slovenije ter v Slovenski kadrovski zvezi. Za delo na področju komuniciranja v znanosti je leta 2017 prejela priznanje Prometej znanosti za odličnost v komuniciranju.
BOŠTJANČIČ, Eva, PETROVČIČ, Andreja. Exploring the relationship between job satisfaction, work engagement and career satisfaction: the study from public university. Human systems management. 2019, vol. 38, no. 4, str. 411-422. https://content.iospress.com/download/human-systems-management/hsm190580?id=human-systems-management%2Fhsm190580, DOI: 10.3233/HSM-190580. 
BOŠTJANČIČ, Eva, JOHNSON, Boyd, BELAK, Urša. Cross-cultural adaptation of research tools: a study on the cultural intelligence scale adaptation in Slovenian. Europe's Journal of Psychology. 2018, vol. 14, no. 2, str. 386-403. https://ejop.psychopen.eu/article/view/1527/pdf, DOI: 10.5964/ejop.v14i2.1527. 
BOŠTJANČIČ, Eva, SLANA, Zala. The role of talent management comparing medium-sized and large companies : major challenges in attracting and retaining talented employees. Frontiers in psychology. 2018, vol. 9, art. 1750, str. 1-10. https://www.frontiersin.org/articles/10.3389/fpsyg.2018.01750/full, DOI: 10.3389/fpsyg.2018.01750. 
BOŠTJANČIČ, Eva, ANTOLOVIĆ, Sandra, ERČULJ, Vanja. Corporate volunteering: relationship to job resources and work engagement. Frontiers in psychology. 4. Oct. 2018, vol. 9, 10 str. DOI: 10.3389/fpsyg.2018.01884. 
BOŠTJANČIČ, Eva, KOMIDAR, Luka, JOHNSON, Boyd. Factorial validity and measurement invariance of the Slovene version of the Cultural intelligence scale. Frontiers in psychology. 2018, vol. 9, art. 1499, str. 1-4. https://www.frontiersin.org/articles/10.3389/fpsyg.2018.01499/full, DOI: 10.3389/fpsyg.2018.01499. 
BOŠTJANČIČ, Eva, ISMAGILOVA, Fajruza Salihdžanovna, MIROLYUBOVA, Galina, JANŽA, Nina. Comparative study of Russian and Slovenian managers using subjective criteria to control their professional performance. Changing societies & personalities. 2017, vol. 1, no. 3, str. 284-299. 
BOŠTJANČIČ, Eva, LAIMIŠ, Aina. Spreminjanje delovnih nalog slovenskih organizacijskih psihologov skozi čas = The changing duties of organizational psychologists in Slovenia in the past and in the present. Psihološka obzorja : slovenska znanstveno-strokovna psihološka revija. [Spletna izd.]. 29. maj 2016, 25, str. 38-47. http://psiholoska-obzorja.si/arhiv_clanki/2016/bostjancic_laimis.pdf, DOI: 10.20419/2016.25.443. 
BOŠTJANČIČ, Eva, LAMPIČ, Barbara. Varnost, stabilnost, življenjski slog : prevladujoča karierna sidra gospodarjev slovenskih tržnih kmetij. Dela. [Tiskana izd.]. 2015, [št.] 44, str. 5-23. http://revije.ff.uni-lj.si/Dela/article/view/dela.44.1.5-23/5458, DOI: 10.4312/dela.44.1.5-23. 
BOŠTJANČIČ, Eva, ZAGER KOCJAN, Gaja, STARE, Janez. Role of socio-demographic characteristics and working conditions in experiencing burnout. Suvremena psihologija. 2015, vol. 18, br. 1, str. 43-60. 
BOŠTJANČIČ, Eva, KORAČIN, Nika. Returning to work after suffering from burnout syndrome : perceived changes in personality, views, values, and behaviors connected with work. Psihologija : časopis Saveza društava psihologa Srbije. 2014, vol. 47, br. 1, str. 131-147. http://www.doiserbia.nb.rs/%28A%280wRv2_6LzwEkAAAAOGIyMTgyYmItNTZhNi00MWM0LWJlOGQtY2I4MTllNzlmZWU1wTNgV5giZ6Cg3b3zxW4Ixo1jnL81%29%29/img/doi/0048-5705/2014/0048-57051401131B.pdf, DOI: 10.2298/PSI1401131B. 
Compulsory Courses
Elective Courses